Steve Wiseman's 5 Vista gripes
Since Steve Wiseman's post ("The 5 sins of Vista") doesn't have a place for comments – I'm responding here.  Let's go through his issues one-by-one.
1)  The new File Open dialog.
Personally, I'm a big fan.  The XP dialog had some basically hard-coded "Favorite Places" on the left-hand side, but to really customize or extend them you had to use a Stardock add-in.  There was also no functional Search capability – whereas now you can type a few characters into the Search box and find exactly what you're looking for.
Steve's problem?  The lack of a regular folder "tree view" – which, oddly, didn't exist in the XP dialog either.  But wait, Vista does have it!  Just click the "Folders" header (by default, it is collapsed) and voila!  You can even resize it to be exactly how you want it.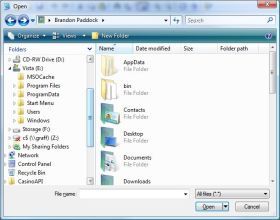 Personally, I'm much happier with the Favorites bar, but that's just me.  His other gripe?  Clicking the down-arrow by the address bar shows him the standard address bar history (which probably includes websites as well).  But if he would just look a couple inches to the left, he could expand one of the breadcrumbs in the breadcrumb bar and see exactly what he's look for – in a far more useful fashion than you ever could in XP!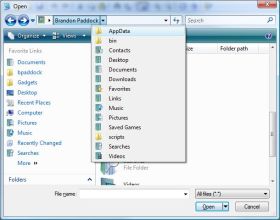 Also, why have an "up" button when you have a breadcrumb bar?  You can go up a level just the same, by clicking on the parent breadcrumb, or (depending on the width of the window) you can jump multiple levels higher with a single click.  It takes a few minutes to get used to, but it makes so much more sense and really is one of my favorite improvements to file browsing in Vista.
2)  The new Start menu. 
Steve complains that typing "C:" into the start menu doesn't open that folder, but "C:\" does.  He suggests that we should check to see if what was entered is a valid path before launching the first search result.  But that is what we do!  The problem is, "C:" isn't a qualified path.  In fact, because the colon is a word-breaking character, it's basically the same as just typing "C" into that field.  Could drives have been special-cased?  I suppose.  But really, if typing that extra slash is one of your top 5 gripes with Vista, I think we're doing pretty well =)
Legacy functionality is also retained by pressing "Windows Key + R", or by re-enabling the classic "run" box from the Start Menu advanced options.
3)  Windows Networking
I'll agree with Steve that on first glance, you might be a bit lost in trying to figure out how to change your IP address from the Networking control panel.  Of course, going to Control Panel and typing "ip address" in the search box would get you there a lot faster =)
However, I really like the new Networking capabilities in Vista.  For one, Vista finally addressed one of my biggest desires when it comes to networking, especially for my laptop – it actually remembers settings on a per-network basis, in ways that previously required third-party software (which never seemed to do a good enough job).  In Vista, I set up a network once, and never worry about it again.  When I go to a friend's house that I've been to before, the wireless connection just works.  Same when I go to Panera, or use any of the Seattle public hotspots.  Not only do I never have to be asked about connecting to a network I've already established as trusted, but all my network discoverability and sharing settings are remembered.  And believe it or not, the "diagnose problem" functionality in the new Network and Sharing center is really nice.  As are the yellow-band prompts that remind me I have sharing or network discovery turned off for a particular network, and give me a one-click option to enable them. 
4)  Windows Search
This entire section of Steve's post makes no sense to me.  First of all, I'm not aware of any changes made to Windows XP's built-in search in XP SP2.  I really can't be sure if he's talking about Windows Desktop Search or not, but his points don't seem to apply either way. 
He says:  "I want a simple search program that will search for a file on my hard drive (Hint to Microsoft – Every file, not just the types you know about like Word and Excel files) that contains a specific string of letters."
Well, fortunately, Windows Search has never been limited to Microsoft formats like Word and Excel.  In fact, Windows Search will index (or grep-search) the filenames and metadata of any files on your system, and will index the content of hundreds of filetypes out of the box.  What's more, files can be indexed (or have their content cracked on-demand for non-indexed locations) using the standard IFilter interface, for which filters are available for most popular formats – including Adobe's PDF format. 
It's true that Windows Search doesn't index your entire hard drive(s) by default.  This is done to improve performance and the quality of search results, as very, very few users want to be searching for a document and see random system DLLs show up.  However, both the indexed locations and the filetypes that are excluded are fully configurable.
More importantly, though, is how well Vista will handle non-indexed locations seamlessly.  If you initiate a search in a non-indexed location, the same IFilters used for indexing can be used to search the contents of non-indexed files (if you click the "Search in File Contents" button). 
The problem for Steve might be that he's searching in "Indexed Locations" for items that aren't indexed.  However, by selecting a different location in the Location drop-down, it's easy to search anywhere and find what you're looking for.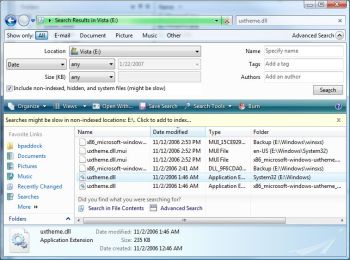 5)  File copying
Steve says "I absolutely hate it when my 5000 file copy gets killed half way through because 1 single file can't be opened."
Lucky for him then that this exact problem was addressed in Vista!  Now, when you copy a large number of files/folders – Vista will prompt you for any permissions, overwrite requests, etc – at the start of the operation, for everything in the copy list.  It will also copy as much as it can and save any errors for the end of the operation, so that you don't walk away and come back later to find that one little error has stopped your entire copy operation.
It also has replaced the "Yes / Yes To All / No" style options, with more descriptive options and a "Do this for all" checkbox – thus ending cries of "Where is No To All!?!?!" (which secretly could be achieved in older version of Windows by holding down the SHIFT key while pressing No).
I fully expect it to take some time before long-time Windows users adapt to the changes in Vista.  This happens every time a major OS revision occurs, especially one on such a large scale.  It is my hope, though, that people will give it a try instead of assuming that things don't work, as it seems Steve did in a few cases.  An unprecedented amount of thought and testing went into Vista's design changes.  Will everyone be happy with 100% of the changes?  Of course not.  But taken in aggregate, I think the net effect is an overwhelming improvement. 
I can say for my part that using an XP machine is decidedly less pleasant since I switched to using Vista on all of my machines.  I've already started to take some of the improvements I mentioned above for granted, and sorely missing them when they're gone!  I'd be happy to respond to concerns from Steve or other users about how to accomplish tasks in the new shell, or about what to expect from certain features (particularly around Search) wherever I am able to.  So post your comments, concerns, and questions below!