Remote Search in Windows Search 4.0
Following up on the Windows Search 4.0 Preview release, I will be writing several posts about some of the new features and changes enabled by this release. One such feature, and this first one I will dive into here, is the capability to remotely search the index of another Windows PC.
This features isn't entirely new. Windows Vista shipped nearly a year and a half ago with the ability to query the index of another Vista machine when searching file shares. The same capability extends to and from Windows Server 2008.
Windows Search 4.0 brings this capability to Windows XP machines, as well as Server 2003 – and perhaps more importantly, Windows Home Server.
So how does it work? First let's take a look at how the user sees it. Let's say I have a folder on Machine A called "Cool Stuff" that I want to share out. One simple way to do that is to browse to the folder in Explorer, select it, and click "Share."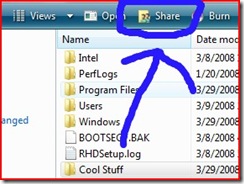 You'll then get a friendly dialog that asks you who you'd like to share with.

"Everyone" is a simple answer for information you want to be accessible to everyone. Select it from the drop-down and click "Add" to add Everyone to the list of people the folder is shared with.

What else do I have to do on Machine A? Nothing! Windows Search 4.0 will automatically index any folders you share out, on both XP and Vista.
On Machine B, you simply navigate to the share as you normally would. That could mean typing a UNC like \\MachineA\Cool Stuff\ or it could mean using a mapped drive, redirected User folders, the Network browser, etc. Once there, just type a query in the Search box (or on XP, click the "Search" button to bring up the Search Pane) and you're off!

Unfortunately I don't have any XP machines to get a screenshot from, but I'll try to add one soon.