My new project: Silverlight Twitter App
Update: As of 5/28 I ported Twilver to run on Silverlight 2.0.  I'm in the process of refining that port, and creating a Windows Gadget (for Vista + Win7) that hosts it on your desktop or sidebar.  I'll make further posts with more info about that.
If you follow me on Twitter, or read my earlier post about Twitter clients, you might have figured out that I'm not exactly thrilled about the state of Twitter clients on Windows.  I've also long been itching to see what all the hype with Windows Azure and Silverlight was about, and to try and wrap my head around XAML.  So a few days ago I decided to check out the Silverlight walkthroughs and installed the Azure and Silverlight 3.0 Beta SDKs.  Since then I've been busy (well, mostly yesterday and today)…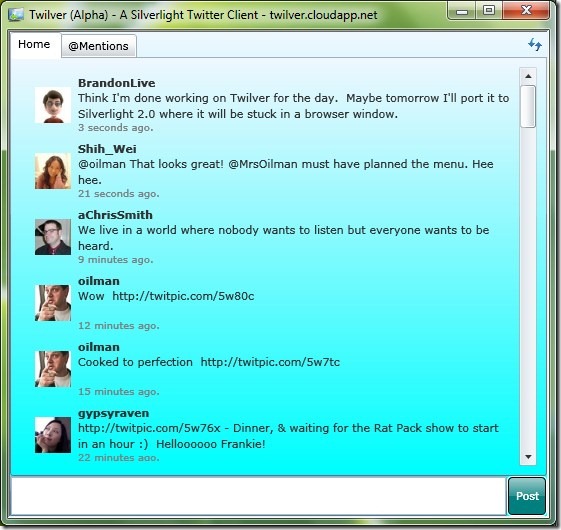 So there's my first Silverlight + Azure app, running standalone thanks to Silverlight 3.0's new out-of-browser support.  Of course the UI and feature set are very early at this point.  But I'm pretty happy with what I was able to get working in such a short time.  Especially since I spent several hours just figuring out how to deal with Twitter's OAuth authentication API.
Unfortunately there isn't an end-user friendly version of the Silverlight 3.0 Beta (you have to get it via the SDK), as it is targeted at developers only.  So that means it's not very convenient to share this with potential testers.  In the meantime I may look at putting up a Silverlight 2.0 version (confined to a browser window) for people to look at.  I have no idea what the Silverlight 3.0 timeline is like, but now I have reason to hope it gets released soon =)
I plan to work pretty aggressively on matching feature parity with the popular clients, like Witty and Tweetie, and then start working on some other ideas I've had.  My very first goal, though, is to get the basic functionality available in a lightweight, attractive client UI.  Right now the Windows offerings are either horrendous resource hogs (Witty), or butt ugly (all the Adobe AIR apps, like Seesmic Desktop).  The Mac client situation seems quite a bit better, and that just makes the Windows situation bug me even more.  Hopefully I can help change that.  And since Silverlight is cross-platform, I may be able to win over some Mac users as well 🙂
Oh yeah, the name I've been using for the project is Twilver.  This is likely just a placeholder until I decide on something I like better… I was originally going to call it Twilight, but apparently that name has already been claimed.