Two weeks with a Droid
A couple weeks ago I made a rather impulsive decision to purchase a Motorola Droid with a new Verizon account.  The frustrations I've had with AT&T have been piling up for a while now… dropped calls, slow-to-respond data services, zero service in crowded places, and horrible customer service problems (such as being lied to and not being able to upgrade to a 3GS), to name a few.  Add to this my total inability to use their data service near San Diego over the week of Thanksgiving and their apparent lack of desire to actually fix these problems, and you've got quite a number of straws on this camel's back.
I didn't quit AT&T cold turkey, though.  In fact, I told myself this was an experiment to see how a different network and device might work for me – knowing that I could cancel within 30 days and return the phone itself for a refund.  Instead of porting my AT&T number, I left it active on the iPhone, and began directing friends and family to use my Google Voice number for calls and SMS, which I pointed at the new Verizon phone.  I also set my iPhone to forward calls to that number.
If you're anxious to hear the result of this experiment, it's this:  I am cancelling my AT&T account and going to try tomorrow to port my old number to the new Verizon account (something I hope is possible, but I'm okay if it isn't).  For more details about this decision, read on as I dive into three topics: the phone, the network, and Google Voice.
1. The phone
First off, I must make it clear that the Droid doesn't do everything as well as the iPhone.  The hardware isn't as pretty.  The default software isn't as nice.  Text selection isn't as nice as iPhone or even WinMo.  Some apps I really liked on the iPhone are still missing (Kindle, Urbanspoon, OneBusAway).  Some apps like Facebook don't compare.  Next to the iPhone, the built-in media experience is pretty awful. 
But there are a lot of things it does better.  It has a hardware keyboard which is a win for most people, though I find myself using the software keyboard out of habit which I actually like better than the iPhone's.  It's mostly the same but adds text prediction and is smarter about letting me fix its mis-corrections.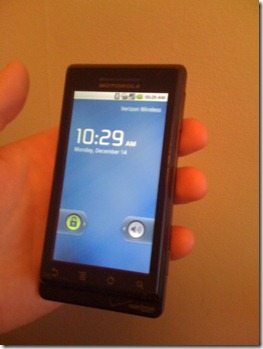 The screen is gorgeous.  The camera (with flash) is way better.  The software is highly customizable.  I can run apps in the background and the OS has central management of apps that sync (including the Facebook app, Twitter app, mail apps, etc).  Push Gmail is automatic. There are lots of great apps like Twitdroid and Google Sky Map, and many iPhone staples like Pandora, OpenTable, Flixster, Bump are around too.   Many of them, like Pandora and Qik, are far more functional. I can have Pandora playing in the background while I do other things.  I can stream video to Qik over the 3G connection.  There's even an app in the Android Market for tethering over USB or Bluetooth (though I wonder if Verizon will have something to say about that soon).
The OS itself does a lot right too.  A common theme seems to be central management of app behaviors – like syncing, notifications, and even power usage.  The first time the Droid got to 15% power it offered to show me which apps and settings were draining my battery!  Who knows if it's totally accurate, but man was this helpful.  At one point it helped me identify a widget I'd installed which apparently had a bad battery-draining bug.  Good stuff.
The built-in Maps and search features are awesome.  Google Latitude is pretty well integrated (much more useful than it was on the iPhone), as is a pretty effective voice search.  Finally, the Droid earns high marks from me for its Google Voice integration.  More on that below.
When I got the phone I was concerned about a few specific problems, including reports from people I talked to that they heard an echo during every conversation.  A quick look around the web revealed that this was a known issue (with a workaround which worked).  This problem was eliminated a few days ago when the OS 2.0.1 update was pushed to Droid users.  That update brought several other improvements, including an improved lock screen and some performance, battery, and reliability improvements.  Thus far my experience has been that this update is how the phone should have shipped originally.  But that's not necessarily a knock against Google / Motorola / Verizon, since everybody seems to be shipping not-quite-finished software these days… In fact, the speed and ease with which they deployed a solid first "service pack" via an Over The Air update was impressive.
2. The Network
Verizon's network, at this point, has proven vastly superior to AT&T's.  While it feels like the number of "bars" I have is often lower, it doesn't seem to matter.  The iPhone would say 5 bars but still fail to make calls, drop them half way through, or completely fail to establish a data connection.  When the data connection did work, it was very rarely as fast as it could / should be.  And latency always seemed to be a major problem.
On Verizon, I consistently get a responsive data connection.  I know that when I click my shortcut to the WS-DOT bridge traffic map that I'll be seeing it in a few seconds.  On the iPhone 3G with AT&T, I'd often wait nearly a minute for it to begin loading, or have to try several times to get it to load at all.  Getting Twitter or Facebook updates on the iPhone was hit or miss.  Twitter apps would regularly return obscure connection errors, and the Facebook app would often require several attempts to upload a photo (trying to do this from a crowded place like a soccer game was basically impossible).
3. Google Voice
When Michael Arrington talked about the Droid with the Gilmor Gang, he raved about its integration with Google Voice.  I decided to give this a shot, and while I'm not sure its as big of a revolution as he suggested, I do see what he was on about.  The Droid + Google Voice together feel like a truly natural evolution of the mobile experience.
So what does it do?  Well, a Google Voice number is sort of like a domain name on the web.  You pick the area code and number (from the available ranges) that you want to use as your public alias, and then point it at a destination (via the device's phone number, which is now more like its IP address).  You can choose multiple destinations (if you don't answer one device, it can ring another), or you can change where it points on the fly.  SMS messages and voice mails arrive on the Google Voice web site at no cost, and can be accessed via a web browser or through a Google Voice application like the one for Android phones.  For "legacy" devices you can have it immediately forward messages via traditional SMS.  But with the Droid this isn't necessary, you can just use the Google Voice app instead of the SMS app and not even know the difference (except that you don't have to pay for SMS and can read or respond to them on the web).
In the end, it's not a revolution as Arrington may make it sound, but it is an improvement.  With a phone like the iPhone it's hard to imagine why Google Voice is useful.  It's complicated to use it as your number because when you call people using the phone's dialer, they see your device's real number instead.  And Apple won't even approve the Google Voice dialer app.  Same goes for text messages.
But on the Droid, there are no such restrictions from Apple / AT&T.  The Google Voice app takes over your dialer, so any calls you make come from that number.  It's a largely seamless experience.  I say "largely" because the SMS experience could still be a little better integrated (perhaps by having GV push the messages into the phone's native SMS app), and they don't quite have the sync / push experience nailed down for them, but it's nearly there and I'm confident it will be all the way there soon enough.
Overall verdict
As I mentioned before, I'm keeping the Droid and Verizon.  But there are a few caveats to be aware of.  I would NOT recommend one for non-techies like my girlfriend (who currently uses an iPhone 2G on T-Mobile) or my sister yet.  At least not to replace an iPhone.  Why?
Some of what the Droid does right it also does wrong.  The Droid (and more the Android platform as a whole) is built for a world that most people don't quite live in yet.  That's a world where you never need to connect your phone to your computer.  Don't get me wrong, this is where things are going, I have no doubt about that.  But it's not where things are, for most people.
Let's look at one specific scenario: pictures.  First off, the phone has no concept of syncing pictures (or other media) to it.  In fact, if you plug the USB cable into your computer nothing happens.  As far as I can tell there's no management software like iTunes for it.  It doesn't even mount itself as a drive unless you push a button on the phone's screen once it's connected.  Because of this, there is no sync feature, so no process by which properly sized and thumbnailed images get copied to the device.  Instead you can mount the storage card and drag images to a folder on the device's SD card, but the first time you go to view them they'll take a while to load and have thumbnails generated.  Not a pleasant experience.
I doubt Google sees this as a flaw, though.  Copying or syncing media to your phone isn't something you're meant to do in the Google world.  Instead you're meant to consume media "from the cloud" using the appropriate app or mobile web site.  For photos ,there are dozens of apps for interacting with Picasa, Flickr, Facebook.
For now, the iPhone has the advantage here.  It has a fantastic experience for locally synced media, while enabling lots of cloud-based scenarios like viewing and uploading Facebook photos.
The iPhone also has the advantage when it comes to a simple, intuitive user experience.  The Droid experience is good, but requires a lot more customization to really make it shine, in my opinion.  The iPhone just works.  If not for AT&T's widely publicized failings, I would say that the iPhone is the best choice for a normal human.  But the reality is that AT&T's network has been getting worse, not better.  That alone may be enough to justify a different choice, and the Droid is a perfectly sensible one.  Just make sure there's a geek around to set it up for you.