Kindle review
A few weeks ago I decided it was time to buy an E-book reader.  I really only considered two options, the Barnes & Noble Nook and the Amazon Kindle (specifically the "Kindle 2" model).  I'd briefly seen each in person, but hadn't had time to really look at or play with either of them.
The Investigation
I started out by reading up a bit on both devices.  I read complaints about performance on the Nook, but also saw mention that an update was released which improved the situation significantly.  The specs told me that the Nook was slightly thicker and ever so slightly heavier, but otherwise roughly the same dimensions and basic capabilities.  In theory the color touch screen and Android-powered nature of the device made it appealing.  In theory.
So one afternoon I took a drive over to the B&N store in Bellevue to take a good look at the Nook in-person.  My first impression was that the industrial design looked cheap compared to the Kindle 2 I'd seen.  I played around with the device a bit, and found the page-turning speed acceptable but not exactly impressive.  Navigating the device's various functions seemed relatively cumbersome, but I didn't have a basis to compare this to the Kindle at the time.
As I was looking at the demo device on display, a salesperson asked if I needed help and tried to tell me how much they'd like to get a Nook of their own.  I inquired about the return policy, and was told to wait while they called down a manager to talk to me about the device.  The manager (or supervisor, or whatever she was) was very enthusiastic about the device, but I was put off a bit by her pitch.  First, she told me there was a 15% restocking fee if I returned the device (I forget if it was a 14-day or 30-day return policy).  She said this was "standard for these kind of electronics" to which I replied that the Kindle did not have such a fee and neither did stores like Best Buy and Fry's.  I also inquired whether there was a web browser on the device, and she said "no but the Kindle doesn't have one either."  I pointed out that the Kindle actually does have a basic browser, and she insisted it was only the Kindle DX which offered this feature.  Of course, I quickly confirmed using my Droid that she was indeed incorrect.
Given all this, I decided to leave B&N without one, and a couple days later I ordered a Kindle.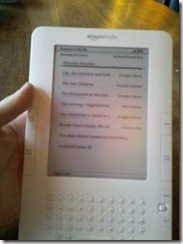 The Arrival
I ordered the Kindle late on a Thursday evening, and decided to take advantage of Amazon's same-day delivery option, a concept which nearly blew my mind, to have it arrive on Friday.  Sure enough, it arrived at my building Friday afternoon.
Unpacking the Kindle is a delightful experience.  The device arrives pre-programmed with your Amazon account.  There was no registration process of any kind, it was as if this device knew me and was anxious to be my new reading companion.  The Kindle store was already populated with book recommendations based on my Amazon history, and the device happily sync'd the two books I'd purchased on the Kindle for iPhone app a few months before.
I was immediately glad I'd chosen this over the Nook.  Amazon had clearly put significant effort into building a complete end-to-end experience with minimal friction to purchasing and reading books or other content.  In some respects, it even seemed they'd outdone Apple, who many consider to be the king of this kind of execution.
The device looks and feels solid.  The plastic feels more expensive and higher quality than that of the Nook.  The size and weight are pretty much ideal for its purpose.  The button placement is well thought-out, and the labels make it trivial to pick up and start using.  They duplicate certain buttons (like "Next Page") and seem to have considered all the different ways you might hold the device when reading on a park bench, in bed, etc.
Navigating the device may not be as delightful as an iPhone, but it's easy to figure out and get around.  Common tasks are easy, what feels a little clunkier are secondary tasks like selecting text within a document – but it's still easier than it seemed on the Nook.
The display updates slightly faster for page-turns than the Nook, which seems just fast enough to not be annoying when reading.  That is, the Nook is only marginally slower, but it seems to cross a threshold where it starts to feel slow.
Web Browser
The Kindle web browser is very basic, and given the performance characteristics of the hardware and lack of a pointer, it's not hard to see why.  Typical web browsing tasks simply won't work on this hardware.  That said, I think the basic browser is quite useful, and mainly for one application: Google Reader.  Now, to be honest, I haven't spent a lot of time actually using this in practice… but the short time I did spend using it, it felt quite usable and useful.  I imagine I will use that regularly in the future, unlike most any other web browsing functionality.
One gripe with the browser was the inability to re-order bookmarks.  Or at least, if you can re-order them, I couldn't figure it out.  Instead I had to delete all the built-in bookmarks (about a dozen) which is a slow enough process, just to get Google Reader to be at the top.  Given that the browser is labeled as an "experimental" feature at this point, I can't really complain too much.
Verdict
At this point I'm pretty confident I'll be keeping the Kindle.  At first I thought maybe an iPad or similar slate PC might obsolete it, but now I'm not so sure.  The iPad, for example, is about twice the weight of the Kindle.  I don't think that's going to be comfortable for extended reading sessions.  Once I get to try an iPad myself I'll try to update this post with my impressions with regard to its usefulness as a book reader.  Until then, I'm happy to recommend the Kindle to any avid readers or gadget freaks.